Garmin Approach G10 Clip-On Golf GPS
In stock - Delivery 3-4 days
Special Price
£109
Regular Price
£145
Free delivery over £75

We offer free delivery on orders above £75. For orders under £75, there's a shipping fee of £4.90-9.95 depending on the size of the package.

Shipped within 24h

We aim to process orders within 24 hours during weekdays. The delivery then usually takes 3-5 business days if all products are in stock. See estimated delivery time if products are on backorder.
GPS Golf Data in Convenient Clip-on Form

Compact, lightweight and easy to use, the Garmin Approach G10 Clip On GPS gives you the ability to accurately measure yardages for shots from anywhere on the course you're playing. For those who like to walk the links, there's even a built-in odometer to track exactly how much ground you've covered.


• Compact clip-on device fits anywhere
• Preloaded with more than 40,000 golf courses around the world
• Displays distances to the front, back and middle of the green, plus hazards
• Green View display shows shape of the green with manual pin placements
• Digital scorecard lets you easily keep track of your score throughout each round
For all golfers who want to improve their game and put the right shot in the right spot with far more consistency. If you don't want to spend a fortune to get there the Approach G10 clip-on golf GPS device is probably the right solution.
Know the Yardage
Compact, lightweight and easy to use, Approach G10 gives you the ability to accurately measure yardages for shots from anywhere on the course you're playing. For those who like to walk the links, there's even a built-in odometer to track exactly how much ground you've covered.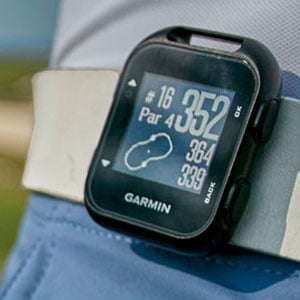 On-course Confidence Builder
Whether you're playing with friends on a course near home or teeing up for that long-awaited golf resort holiday, Approach G10 golf device knows where you are — and how far you are from the next pin. The high-sensitivity GPS receiver gives you the distance data you need to fire away with confidence. On the crisp, bright 1.3-inch square display, you'll see distances to the front, back and middle of the green as well as yardages to hazards, doglegs and layups.
Know the Green
Green View display shows you the true shape and layout of the green, even if you're behind it. You can manually reposition the pin to today's location for accurate shot selection.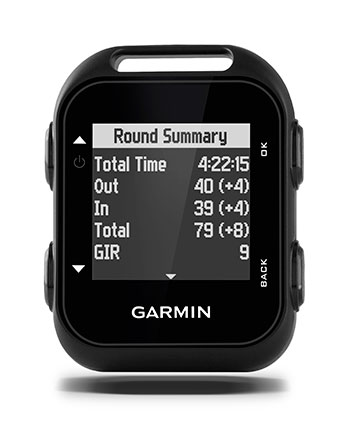 Scorekeeping Made Simple
The built-in digital scorecard with stat tracking makes it easy to tally the numbers for each round. When you're done, you can save and review your round of golf or upload the game data via USB and your computer to Garmin Connect™ the online golf community for post-game analysis.
Free Course Updates
With Approach G10, you get free lifetime course updates. The device comes ready to go, right out of the box, with more than 40,000 preloaded courses. Plus, new courses and updates are added up to 4 times a year, using Garmin Express available on the Garmin website. Best of all, these course updates are free — with no setup charges, fees or subscriptions.
Durable and Enduring
Robust and water-rated to 10 meters, the versatile Approach G10 golf device features a long-running lithium-ion battery to carry you through long rounds or those extra holes. You can easily enjoy a whole weekend of golf with up to 15 hours in full GPS mode before the battery needs to be recharged.
More Information

| | |
| --- | --- |
| Brand | Garmin |
| Store | admin |
Free shipping for orders more then £75 (excl. shipping cost). We normally ship your order with Schenker, UPS or as a letter, delivery time is 1-5 days. You will also receive a tracking number from us so you can track your package online. • Shipping cost with letter - from £4.90 • Shipping cost with Schenker - £8.90 • Shipping cost with UPS - £13.90
COVID-19


Please accept our apologies as some of our delivery partners are experiencing delays due to the current situation regarding COVID-19. Please track your parcel through the normal channels.
We are encouraging all customers to use the alternative delivery options available to them; myPlaces, Diversions and Safe Place for example, which means that they do not have to receive their parcel direct from the courier or sign for it.

For those customers who do not divert, some couriers have put in place a temporary process for our signature deliveries which couriers will follow to ensure contact is minimised.

Where a safe place is possible, couriers will deliver to that safe place, take a photo to confirm safe delivery and then provide the customer with a calling card stating that safe place

Where a safe place is not possible, couriers will still knock on the door but rather than asking for the customer to sign, couriers will ask the customer for their name, input this into their hand-held device and then write "Covid-19" in the signature box. Capturing the name ensures that the security of delivery is maintained whilst avoiding the need for the customer to physically sign.
If you try out your custom golf clubs and are unhappy with them, you can return them within 30 days and receive a same-value voucher to use in our on-line shop. You can return unused golf clubs within 14 days and get your money back. Delivery cost: Letters from £4.90 | Schenker £8.90 | UPS £13.90
We offer custom fitted golf clubs at no extra cost, you also have a large selection of golf grips and golf shafts to choose from. Enter you personel data in the custom fit guide and it will recommend you how long golf clubs you should have, grip size and which type of shaft you should use. 20-30% of all golfers play with golf clubs that are not adapted to their needs. After placing your order with us, we will build your golf clubs with the settings you have choosen. Of course you don't need to make any adjustments to the settings if you have played with standard golf clubs and are pleased with that, then just click on the buy button and your clubs will soon be shipped to you.